Youtube vs TikTok CarryMinati
Youtube vs TikTok makes a big issue on the internet. As you know carryminati make roast video on TikTok in youtube. carryminati breaks many records after making the roast video on  TikTok. carryminati is the first who gain most subscribes on youtube in such a short time. And this Youtube vs TikTok makes a very big issue among people. Through this act, the rating of youtube is also down day by day.
On this act Youtube vs TikTok Many government ministers and other big celebration tweets on twitter and This act  Youtube vs TikTok also telecasts on television news channels. After this Youtube vs TikTok roast the fans of carryminati do rating down TikTok on google play store. before carryminati roast the rating of TikTok is 4.5 now the current rating of TikTok is 1.3. On app store the rating of TikTok is still 4.5.
carryminati video delete Youtube vs TikTok
Carryminati video  Youtube vs TikTok is gone viral within 3 hours. And carryminati breaks records on youtube. And Then youtube delete carryminati video on youtube.  to see this youtube delete carryminati video fans of carryminati is offend from this and on the internet one hashtag is comes in trends #BringBackCarryMinatiYoutubeVideo.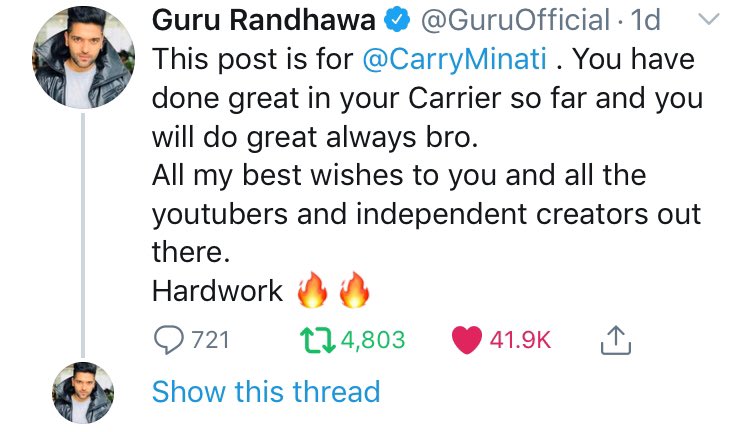 The carryminati video delete from youtube because of cyberbullying but carryminati deny these statements. And then the whole youtube community say this brings back carryminati video. and during this acts the Hindustani bhau, Guru Randhawa, and famous youtube Bhuvan bam also support carryminati.
Amir Siddiqui reply to carryminati video
Basically carryminati roast Amir Siddiqui in his video and after this Amir Siddiqui is really to carryminati video. On Instagram amir Siddiqui gives a swipe up video of carryminati in story. and also post that Great video and this does not end this is interval. and after this amir, Siddiqui makes a video on this Youtube vs TikTok and says some points mainly Amir Siddiqui point out on TikTok girls roasting video that elvish Yadav make. After making elvish Yadav girls getting offense messages.
carryminati break record on youtube
After making Youtube vs TikTok roast video on Amir Siddiqui. Carryminati breaks many records on youtube. And carryminati breaks also Ashish Chanchlani record in terms of subscribers and now the Carryminati is second-highest subscriber youtube in India. This roast video of Amir Siddiqui  make carryminati more famous and in following points you know more about carryminati record
To cross 1M likes ( 2hrs )
To cross 2M likes ( 5 hrs )To cross 3M likes ( 9hrs )
To cross 4M likes ( 17hrs )
To cross 5M likes ( 22hrs )
To have most likes in the first 24 hrs ( 5.2M)
To have 2nd most number of likes in the world in the first 24 hrs (5.2M )
To have most likes on YouTube ( currently 10M )( date May 13 )
To have 2nd most number of comments on any Indian video on YouTube (823K)
To gain most subscribers in 24 hrs ( 1.3M )
To have most comments in the first 24 hrs ( 461K )
To be 8th most viewed video in the first 24 hrs (19.96M)
So this is some record that carryminati breaks by only one video Youtube vs TikTok on roast of Amir Siddiqui. After delete carryminati video carryminati is again make a video in carryminati say stop make assumption And on this video carryminati also get great response within 1 hour 1 million cross.
Carryminati supports from  (Bollywood)
After deleting carryminati roast video on youtube and then many supports support carryminati and in this duration the famous star Guru Randhawa tweet on their social media (twitter) and say don't worry carryminati and appreciate carry work in the photo as you can see that.
Shakti Mann as you know real name Mukesh Khanna is also support youtube and carryminati and he is also making a video on youtube. In his video, Mukesh Khanna is said this carryminati is big YouTubers everyone listens to you so be careful when you use the word and support carry too.
Paresh Rawal is also tweeted on twitter TikTok ban so these celebrities also say That TikTok banned in India. behind TikTokban we have many reasons on TikTok have many adults and criminal promoter and animals offense acts is present on TikTok.
Ministers tweets ban TikTok
After carryminati roast everybody focus on TikTok. And on TikTok platform, many videos promote oppression things, and them TajinderBagga tweet with video in which people throwing a stone on army soldiers and in another video someone invites criminal Dawood Ibrahim in India and also #tag Mr. Amit shah, DGPmaharashtra and TikTok India and saying to take serious action on it.
Rekha Sharma the chairperson of NCWIndia (national commission of women) also shares 2 videos on twitter on women violence and #Tag TikTok India and asked to remove this type of content and also saying that TikTok should be banned in India as you can see in pictures.
Reasons to ban TikTok
To ban TikTok we have many reasons. On TikTok, many video is uploaded on animal violence and hurts and animals and also promotes rape and many other college or adult things. All these content spread negativity among people. Everyone uses TikTok our youngster so they all learn unethical activities so in TikTok, many video is not age proof so this is the reason to ban TikTok.
TIKTOK RELPY

To see all these actions whether it is rating down of TikTok or other things TikTok reply yesterday on this topic. On Twitter TikTok India tweet yesterday that TikTok promotes only safe and positive content on TikTok. TikTok want to make a positive environment on top priority and also say we take action on it and takedown all that videos
TikTok DOs or DON'Ts
TikTok also shares some DOs or DON'Ts points. On TikTok, we showcase creativity and bring joys and create a safe and supportive environment, and some points also share that we DON'Ts do on TikTok like not doing the dangerous activity or no sexual content and many other information they say you can see in the pictures.
The end
NEWS CHANNEL VIDEO
And if you want to see carryminati roast video that youtube delete from youtube so you can see here
also visit here